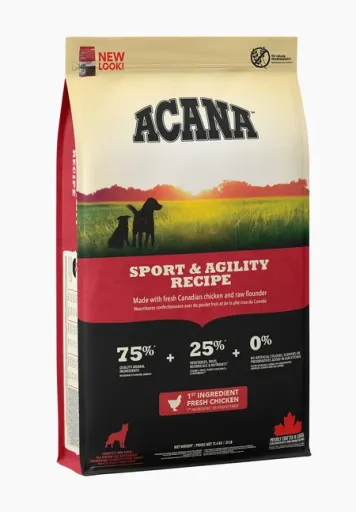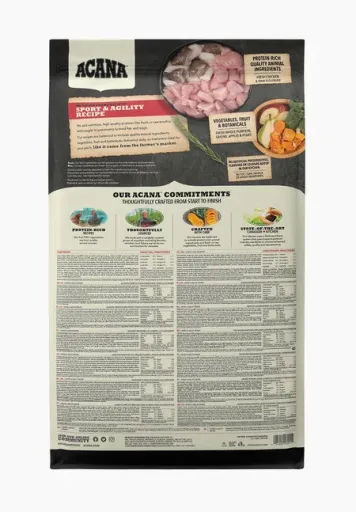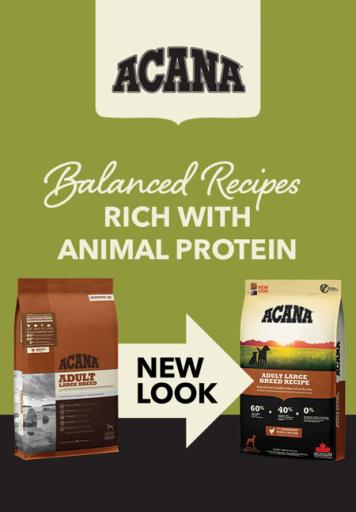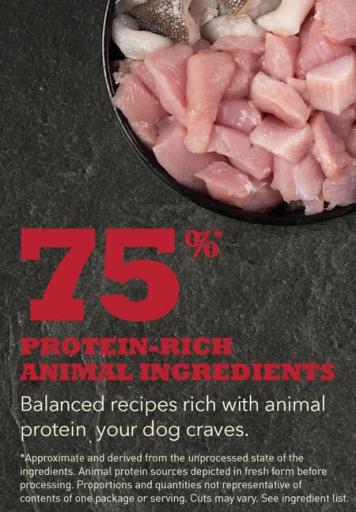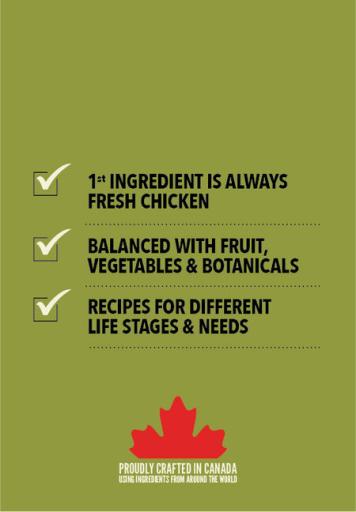 Reviews of Acana Sport & Agility
Most positive review
Excellent food, for active dogs. Acana is a brand you can't go wrong with... Solves stomach problem and dull coat. I recommend this food to everyone with an active dog.
Most critical review
So far so good, our dog loves the food. I have noticed that she has more energy and can keep going for ever compare to the food she was on before. We give her a bit more that what is prescribe on the bag as she was starting to loose a bit of weight. Overall a very good product
Arcana Sport & Agility is an excellent product which is always produced to the same high quality.
Excellent food, for active dogs. Acana is a brand you can't go wrong with... Solves stomach problem and dull coat. I recommend this food to everyone with an active dog.
My dog loves this food. And it feels good to give her this food because its better ingreedence than the last food we gave her. A very good product!
So far so good, our dog loves the food. I have noticed that she has more energy and can keep going for ever compare to the food she was on before. We give her a bit more that what is prescribe on the bag as she was starting to loose a bit of weight. Overall a very good product
A minha cadela adora esta ração.
Espectacular, le gusta mucho y tiene mucha proteina
Muy bueno esperemos que dure ...
Muy bueno, a mi galga le encanta
Compro un saco de 17 kg porque lo combino con dos perros.
Les croquettes sont de bonne qualit mais lors de ma dernire commande un sac tait per.
Muy bien, se lo comen un labrador con american de 9 aos y un bodeguero de 1 ao.
Le sienta bien a un perro labrador de 9 aos y a un una bodeguera de 1 ao, sin conflictos estomacales.
Muy buena relacin calidad/precio
Ottimo per il border smooth che non sta mai fermo un secondo.
Crocchette speciali, adatte a cani che fanno sport come i miei. Pelo lucido e morbido ed il cane perfettamente in salute. Meglio investire nel cibo che nelle cure veterinarie dopo.
Ottimo per cani che fanno molto movimento
Muy satisfecho con la calidad del producto, la alimentacin de mi perra se ha basado en esta marca desde cachorro con la variante de producto que tienen y la verdad que muy contento
Perfetto, economico, veloce e di ottima qualità
Una confezione di Acana presentava un buco dovuto ad un probabile roditore che ha forato il cartone esterno che lo avvolgeva. ho deciso cmq di mantenerlo e non effettuare il reso. saluti
Ce sont vraiment les meilleures croquettes que nous ayons test pour notre braque allemand qui fait du canicross en comptition. Il les adore. Excellent rapport qualit/prix. Elles sont trs apptantes. Notre Berger Allemand les a test lui aussi et les prfre aux Royal Canin.
Buen pienso a buen precio, pero ah que pedirlo con mucha antelacin ya que tarda bastante en llegar
Super croquettes pour husky de 22kilos
Acana da sempre considerato uno dei migliori mangimi per cani. Da quando lo uso il mio cane ha smesso di avere problemi di dermatiti o congiuntiviti.
Acana sempre il top tra i mangimi per cani, uno dei pochissimi di vera qualit... mai avuto problemi
Pienso de alta gama a precio inmejorable
bueno y mas barato q encontre por internet esta semana. que yo lo rebusco todo
Mon beauceron adore ces croquettes ! Trs bonnes caractristiques et composition idale pour mon chien trs actif
Contenu conforme, juste un trou dans le sac. J'espre que cela ne va pas altrer le got.
Bon rapport qualit prix. Je recommande !
Ma border a un trs beau poil, supporte parfaitement le produit. Elle a une nergie dbordante
Qualit au top mais le prix tait nettement suprieur qu lordinaire
prodotto di qualità superiore, Ottimo per il mio Golden Retriever
Lo uso ormai da tempo: molto valido
Otiimo prodotto a prezzi ottimi se paragonato al negozio.
Ottimo alimento per cani attivi che praticano sport.
Ottime crocchette, giusto prezzo
J'ai dj command ces mmes croquettes sur d autres sites. Elles taient livres sous vide et avec miscota, elles ne sont pas conditionnes sous vide... j'espre que la qualit sera la mme. De plus, dlai de livraison trs long ( 11 jours)
Ces croquettes sont trs quilibres pour mon golden retriever qui souffre de fragilit intestinale. Mon chien est en pleine forme, Ayant tudi la composition, elles sont pauvres en glucides.
Ottimo prodotto di qualit e buono il prezzo. perfetto per i miei cane lupo cecoslovacco che sono sempre in movimento con l'argento vivo in corpo.
Consegna effettuata prima del previsto!
Complimenti!
Os meus ces gostam e eu recomendo apesar do preo.
Ottimo. i miei cani (cane lupo cecoslovacco) ne sono ghiotti.
Excelente rao, promove uma boa funo intestinal e o plo fica maravilhoso.
RAS. Je donne ces croquettes mes chiens depuis plus d'un an, ils les mangent facilement et se maintiennent un bon poids avec !
Des croquettes de bonne composition, pas toujours videntes trouver mais dont mes chiens raffolent.
Great product we have been using it for almost a year
Je recommande...... J'ai un husky très exigeant, qui refusait de manger ses croquettes habituelles. J'ai essayé plusieurs marques . Je suis râvie, il a pris du poids depuis qu'il a découvert les croquettes Acana. Son poil est plus brillant, et surtout il mange toutes ces croquettes.

Pienso top!! Que decir de esta marca con los compotentes tan buenos que tiene... olor super apetecible,calidad de ingredientes de lo mejor del mercado, cacas duras,brillo en pelo muy bueno etc... lo recomiendo, yo se lo doy a mi doberman y se lo seguiré dando
La mejor marca que puede comer un perro, ha probado casi todos los sabores, se la doy desde cachorro y su musculatura y su pelo estan impecables.Lo recomiendo a todo el mundo.
Mi hydra siempre a tenido problemas con su caca blandas...pero por fin 2 años y medio despues he encontrado uno pienso maravilloso,,,mi hydra esta bien no tiene cacas blandas y su pelo esta maraviloso...gracias por vuestro trabajo acana,y yo aconsejo acana sport
Felicissima..... Cibo dalle qualità ottime, per la mia dobby che fa sport. La spedizione, inoltre super rapida.
Veramente appetitose, mai visto mangiare crocchette con quella velocità, il mio roky un bracco kurzhaar ne è entusiasta, in più è un alimento di grande qualità, per quanto riguarda le materie prime.
La mia pitbull finalmente è contenta delle crocchette! La vedo rinvigorita e più vivace. Credo che le piace molto il prodotto di Acana, perché nella ciotola non rimane niente!))))
Es el pienso perfecto, la marca en general. Solo con abrirlo ya se nota la calidad. Mi perra es muy activa para verano y le cambio al agility.
Croquettes idéales pour ma chienne pointer ultra sportive qui engloutissait plus de 500g de croquettes/j (Acana puppy) pour rester en état. Avec les Acana sport et Agility, j'ai pu réduire les quantités journalières et ma chienne est en super état. Et puis ses croquettes font un poil magnifique !
J'ai une chienne berger allemande allergique (boeuf et gluten entre autres) et à 5 ans déjà arthrosée. Elle a besoin de gros apports énergétiques de part son activité sportive et son tempérament. J'ai enfin trouvé ce qui lui convenait au bout d'1 an 1/2 !!!! Je touche plus à rien !
Et du coup j'ai passé mon chiot à la gamme Puppy Large Breed et je suis ravie !
produit conforme à mes attentes. mon compagnon chien a pris le poids qu'il lui manquait, et j'ai diminué les rations quasiment par deux. un bon premier pas vers une nourriture plus adaptée pour les bestioles chien.
Eccellente prodotto, molto appetibile, ai miei cani non ha dato nessun problema, feci sempre solide e compatte.
La crocchetta è di colore molto scuro, lo consiglio per cani che fanno intensa attività fisica o che vivono all'aperto nei periodi invernali.
ottimo il mio pitbull ha migliorato forma fisica e pelo morbido e lucente ...una crocchetta molto appetibile e nutriente ...una delle migliori a mio avviso sul mercato anche per l ottimo rapporto qualita prezzo
Es el pienso ideal para perros muy activos y enérgicos que necesitan un aporte extra de energía para su día a día.
Ottimo prodotto ho sempre avuto problemi a trovare un prodotto valido,ora grazie a miscota credo di averlo trovato!Acana è un ottimo prodotto!!
Ottimo prodotto!!Nessun problema intestinale , lo sto' usando per il mio Mastiff Inglese,al momento nessun problema.
Il mio cucciolone fa agility due volte a settimana e molta attività fisica durante tutti gli altri giorni, si trova benissimo: pelo lucido, feci compatte,. Per il contenuto di grassi e proteine lo trovo molto adatto nel periodo invernale. E' molto gradito dal mio cane,, capace di non mangiare per giorni se non gradisce il sapore. Insomma: ottimo acquisto!
Buen pienso y buen precio aunque tardo demasiado tiempo en llegar,casi una semana, por lo de mas todo ok.
El envío a sido muy rápido todo en perfectas condiciones me llegó justo a tiempo así que perfecto
Es un pero muy activo, que come bastante cantidad y se mantiene muy delgado.

Desde hace unos meses tiene una alergia a los cereales y estaba probando distintos piensos hipoalergénicos a base de soja, que no le gustaban...

Pero con este pienso rico en proteínas come muy bien de nuevo y sigue tan activo como siempre!
Ho 3 cani, di cui un labrador e sono cani MOLTO attivi. Ho sempre dato loro cibo Hill's (nulla da dire per carità)..ma ho provato acana incuriosito da opinioni lette online..e devo dire che è un alimento verametne ottimo!! Le mie belve lo divorano e li vedo veramente attivi come non mai! Ottima qualità del prodotto dire.
Comen Acana desde cachorros, pero esta es la primera vez que les damos esta variedad. Les sienta igual de bien que las otras cuatro clases que han comido.
De momento les va bien. Estoy observandolos, ya q con el anterior pienso de gama blanca, la perra lo devolvía. Y estaban siempre con hambre. Ya os contare.
Buen pienso, le gusta y desde el primer dia que llego lo come muy bien, saludable y digestivo, 100% recomendable.